Home > Practice Areas > Personal Injury Law > Motocycle Accident
Motorcycle Accident Lawyer in Los Angeles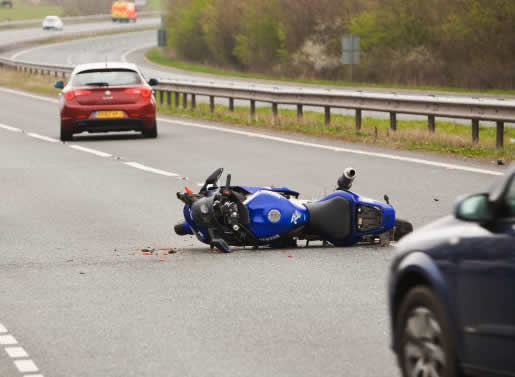 Motorcycle accidents are commonplace in the United States, including the state of California. Statistics from the National Highway Traffic Safety Administration (NHTSA) show that in 2012, at least 4,957 motorcyclists were killed in motor vehicle crashes all over the nation. Approximately 93,000 more were injured. Both figures were significant increases from the prior year.
It is also worth noting that per vehicle mile traveled in 2012, motorcyclists were 26 times more likely to die, and 5 times more likely to be injured, in motor vehicle crashes than passenger vehicle occupants. Clearly, it is dangerous to operate a motorcycle. Not only are motorcyclists in the blind spots of passenger cars, but riders are faced with numerous road hazards such as water puddles, oil slicks, and uneven road surfaces.
Have you been injured in an accident while riding a motorcycle?
Victims of motorcycle accidents often sustain various injuries which range from minor to life-threatening. These injuries include broken necks, bone fractures, injuries to the spine or brain caused by trauma, cuts and bruises (road rash), and internal bleeding. These severe injuries can require lengthy hospital stays, grueling rehabilitation, and cause an accident victim to incur substantial costs for medical treatment.
If you have been involved in a two-vehicle crash while riding your motorcycle, you must be aware that under California personal injury law you are entitled to file a negligence claim against the other party involved which allows you to recover damages, such as lost wages, medical expenses, and pain and suffering damages. Therefore, it is imperative that you seek the legal expertise of a lawyer for personal injury in California who specializes in motorcycle accident claims.
Hiring a lawyer to serve as your legal advocate not only increases your chances of securing the maximum amount of compensation for your particular injuries, but it also helps you navigate the complexities of a personal injury lawsuit. In fact, a personal injury lawyer can assist you with the preparation of legal documents, contacting witnesses, obtaining medical records, obtaining accident reports, and collecting other crucial pieces of evidence.
Call our personal injury law firm in Los Angeles today!
Sustaining injuries because of another driver's negligence can truly be an overwhelming experience. However, subsequent to seeking medical treatment, you should not delay in contacting the Law Offices of Jual F. Reyes to provide you with skilled legal representation.
To obtain your FREE initial consultation, call our office for a motorcycle accident lawyer in Los Angeles today at (310) 854-5917 or toll free at (877) 242-4410. You can also e-mail us at info@jualreyeslaw.com or simply complete our Case Submission Form at the top right hand portion of this page.